Juniper bushes are known to be highly flammable and can pose a significant fire hazard, especially in areas prone to wildfires. It is therefore important to take steps to remove or reduce the potential fire risk posed by these plants.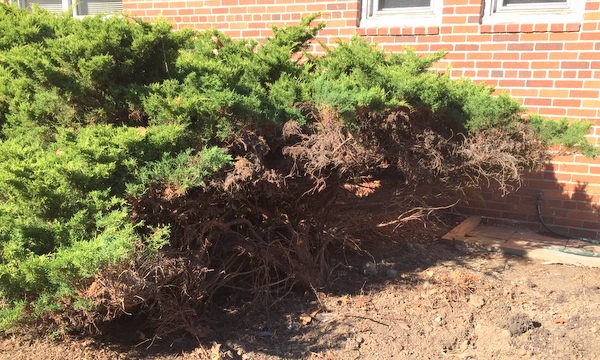 Our process of junipers removal is similar to removing any other shrub or bush. Here are our general steps to follow:
Clear the area: Remove any debris or other plants from the area around the juniper bush to ensure that you have plenty of room to work.
Trim the branches: If you plan to remove only parts of the bush, we'll trim the branches first. Use pruning shears or a pruning saw to remove the branches.
Dig around the base of the bush: We will use a shovel or spade to dig around the base of the bush. Depending on the size and age of the bush, we may need to use a pry bar to loosen the roots.
Remove the bush: Once the roots have been loosened, we'll use a shovel to lift the bush out of the ground.
Remove the stump: If you plan to remove the stump, we use a stump grinder to grind it down to below ground level. Alternatively, we can use a digging bar to pry the stump out of the ground.
Dispose of the bush: Once we have removed the juniper bush, we will dispose and haul it away.
Overall, junipers removal can be a challenging and time-consuming process, especially if you are dealing with an older or larger bush. If you are unsure about how to proceed, call/text us now or fill the contact information in our website.