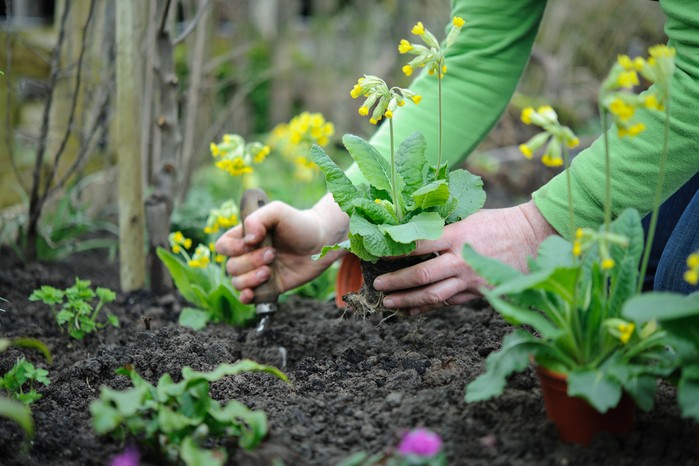 Seed sowing may have slowed down a bit by now, but there are still flowers and veg to get underway this month.
October sowings of peas, broad beans and cauliflowers should pay dividends with earlier crops next spring and summer. In milder areas of the UK, hardy annuals can still be sown now, and sweet pea sowing season starts this month.
Members of the primula family such as primroses, cowslips and oxlips can be sown until the end of November. Violas sown this month should produce flowers next year.
More October seed sowing ideas:
Flowers
Primroses, cowslips and oxlips
Grow Primula veris in moist soil in partial shade
These spring-flowering beauties need a period of cold weather before their seeds will germinate, so October is a great time to start them off. Sow fresh seed thinly on the surface of pre-soaked trays of peat-free seed compost. Place in a cold frame and seeds should germinate next spring. When seedlings are large enough to handle, prick out and grow on in pots, ready to transplant into the garden. Some seeds can take up to a year or two to germinate, so it's worth leaving the tray in a spare corner to see what comes up after the first spring.
Phacelia
Phacelia tanacetifolia is often grown as a green manure, but its flowers are loved by bees
Fiddleneck or Phacelia tanacetifolia is a bee-friendly hardy annual that you can still grow as a green manure, if you start early this month and are in a milder area. Sow direct at a rate of 1g per sq m in well-prepared soil in sunny beds or borders. Dig in six to eight weeks after sowing, before plants can flower and set seed, or cut down and add to the compost. Fiddleneck can also be sown in pots in early spring, then planted out as a wonderful addition to a wildlife border. Plants can cause skin irritation.
Thrifty tip
Growing your own bedding from seed is a fantastic money-saving way to brighten up your garden. If you sowed winter-flowering violas earlier in the year, they can be planted into containers and borders now and you'll enjoy these attractive flowers with their delicate markings for the next few months. And it's not too late to sow violas this month to add colour to containers and hanging baskets next spring.
Perennial violas can also be propagated by division during the autumn. Dig up clumps and tease gently apart to make new plants. Pot up in compost or replant in the garden. Swapping spare plants with neighbours and friends is a great way to add new varieties to your viola collection.
Vegetables and Herbs
Broad beans
Hardy broad beans can be sown towards the end of the month for earlier crops next year
Prepare for next year by sowing early broad beans, towards the end of the month in milder areas with light soil. They should put on some growth in the next few weeks before the weather turns and plants become dormant. In colder areas, or if your soil is particularly heavy, sow seeds under cover now to give plants a head start, and plant out six weeks after sowing. Autumn-sown beans should be ready to harvest by late spring or early summer, a couple of weeks earlier than spring sowings.
It is important to choose the hardiest varieties for autumn sowing, like popular 'Aquadulce Claudia', with its long pods packed with white beans. This variety shouldn't need protection in mild areas. Other varieties such as compact 'The Sutton' and bountiful 'Meteor' can also be sown now. Protect with cloches during cold spells or sow over the winter in pots indoors and plant out in early to mid-spring.
More like this
Sow broad beans 8cm deep, spaced 23cm apart with 45cm between rows. Leave 23cm between rows of dwarf varieties. Choose a sunny, sheltered site where plants will be protected from strong winds. Dwarf broad beans are less susceptible to damage from wind rock, so if your garden is more exposed, choose these smaller varieties.
Cauliflower
Start early summer cauliflowers under glass before hardening off in spring
This tasty brassica can be sown and harvested throughout much of the year and this month is the perfect time to start off early summer cauliflowers. Sow seeds 2cm deep in pots in a cold frame and harden off seedlings in early spring, ready to transplant into the garden. Space plants 45cm apart and leave 60cm between rows. Protecting early summer cauliflowers with fleece brings cropping forward by a couple of weeks.
Cauliflowers need deep, rich, moisture-retentive soil. Autumn-sown cauliflowers should be ready to harvest by June. Varieties suitable to sow in October include 'Gypsy', 'All The Year Round', 'Barcelona F1', 'Snowball' and 'Orkney F1'.
Growing Greener
Autumn is a good time to mulch beds and borders as herbaceous perennials die back, crops are harvested and bare patches begin to appear. Covering the ground with organic matter this month while it's still fairly warm and when soil is moist, helps retain the heat and moisture. It also prevents the soil losing nutrients over winter. Good biodegradable mulches include garden compost and leaf mould, which should be applied to a depth of around 5cm. Mulch around the base of plants, but ensure you don't cover the crown of perennials or let mulch touch the stems of woody plants to avoid rotting.
Elephant Garlic
Plant elephant garlic in autumn to give it a longer growing season
Elephant garlic bulbs grow to an impressive size, as the name suggests, although the plant (Allium ampeloprasum) is more closely related to leeks than garlic itself. It is easy to grow and has a mild taste, so it was a family favourite when my children were young.
October is an ideal time to plant this gentle giant as it requires a long growing season. Place individual cloves pointy end up, 10-15cm deep and 20-30cm apart, into well-prepared weed-free soil. Keep well-watered and, by next June, the bulbs should be ready to harvest. Elephant garlic is a skin irritant and is toxic to pets.
Windowsill herbs
Place herbs on a windowsill for tasty microgreens
It might be too late to sow herbs outside from mid-autumn onwards, but some, like basil and coriander, can still be sown indoors now on a sunny windowsill, to provide tasty micro-leaves. Sow seeds on the surface of peat-free compost in a pot, water gently and place in a clear plastic bag or propagator. We love to grow popular 'Sweet' (Genovese) basil alongside the rich purple leaves of basil 'Crimson King' for a dramatic contrast. And why not try coriander 'Lemon' – an unusual variety with a fresh citrus flavour? With all indoor herbs, check that containers have good drainage holes and make sure you don't overwater plants.
Mint and chives will die back over winter and reappear next spring, but if you want to harvest herbs all year round, you can bring plants inside this month and place them on a south-facing windowsill. Herbs in containers can simply be brought indoors, whereas plants in the garden should be lifted, divided into small clumps, cut back and replanted in a pot. Within a few weeks they will produce new leaves, which you can use throughout the winter.
Other seeds to sow in October: